Mar 11 2013
Having a weeks holiday booked has its advantages. One of which, is the chance to do something unusual. That is, to pop out for a pint in the town I now call home, Bolton, Lancashire.
The Lancashire bit is important. Bolton, historically being a mill town, has always felt like part of Lancashire. It is, despite what those bureaucrats did with their Greater Manchester construct, a Lancashire town.
That's the good bit over. Bolton can also be a dodgy place to socialise of an evening. I know of some horror stories which have kept me out of Bolton for over a year. But hey, give every dog a chance!
Tonight, my buddy Colin and I decided to just do a couple of pubs and try a place we've not been in for over 20 years, The Dog & Partridge – about which I had been heaaring good things on the beer front.
Keeping it simple, we started off in Bolton's lone Wetherspoons – The Spinning Jenny.
A typical Wetherspoon, but with a couple of separate spaces/(almost) rooms. My darling Atilla is none too fond of this place, thinking it a bit shabby and tired. I see what she says, but beer quality can overcome a lot for me. I can count on the fingers of one hand the 'Spoons in which I've never had a bad pint. This is one of them.
Approaching the bar, I spotted two dark beers, including a Beartown, but my eyes were drawn to the other side of the bar, where lurked the mighty NZPA from Hawkshead Brewery. Not the smartest of moves at 6% abv, but it just had to be done. Especially with my CAMRA discount vouchers bringing the price down to £1.79! Outrageous!!!
Potent and massively citrus in aroma (owing to those 4 New Zealand Hops). Flavours of apricot and grapefruit coat the tongue and party in the mouth. A truly superb beer. Another belter from Hawkshead.
(A Fireplace? In a 'Spoons?)
The chance for another presented itself, so I hit the Beartown Black Bear at 5%abv. A strong mild (no kidding!). Some fruit on the nose with nice dark roasted flavours in the mouth. Quite thin in texture for a 5%, but nice roast tapering off into a touch of sweet/sour. Probably a bad idea straight after the NZPA!!! Will look to try this again elsewhere.
Moving on now. I had been in contact with Graham from the local CAMRA branch and arranged to have a pint in the Dog & Partridge – a pub we used to frequent as a Thwaites pub over 20 years ago.
Dog & Partridge
(pic – Google)
Located on Bank Street, just down the slope from the famous Prestons of Bolton. Never the most glamourous of locations, but (a plus for me) a defined multi-roomed pub. A large space off to the right – used tonight for live acoustic music. A small snug type room with a larger room at the back, which is where we sat.
Looking across the bar, my eyes lighted on Hop from Blackedge Brewery of Horwich.
A 3.8 %abv pale brew. Some citrus on the nose. Didn't get (what I would call) much citrus in the mouth, but what I did get was a wonderful dry hoppyness, really clean and refreshing. I had this a couple of months back in the New Oxford and didn't quite get it. I now know different. Superb session beer.
Then had a Moorhouses Black Cat. OK, but not at its best. When it is, it's a superb beer. Possibly coming toward the barrel end methinks. Some roasted character in there, but a slight sourness. As I said, not bad, just not perfect either.
(The REAL 'King' of Rock n' Roll!)
Quite enjoyed the folky/rock strains coming through from the other room. This particular Dog is looking a bit shaggy now, but some interesting 'Muriels' (I love a good Hilda Ogden malapropism!) reflecting the pubs musical slant. That said, I'll be back. 2 or 3 good beer venues close by.
Nice friendly barman as well. Asked for tasters, instantly provided. Nice.
Other beers on included Thwaites Wainwights and Bank Top Flat Cap. Good selection for a small venue.
Moving on, Colin fancied nipping into Barristers for a pint. Who am I to deny him!
Barristers
Attached to the much larger Swan Hotel at the end of Bradshawgate, this has been a bit of a real ale haven for a number years now. It's previous name of 'The Malt & Hops Bar' giving the game away.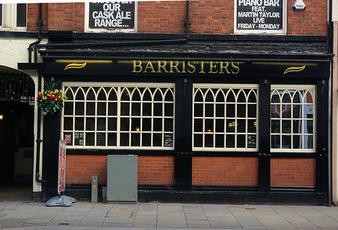 (pic – courtesy of beerintheevening.com)
A one room bar, with an internal courtyard which leads to the facilities (contained within the aforementioned Swan). The bar has a bit of a Victorian look to it with a lot of wood in evidence. The room curves around the bar with more than adequate seating available, including a couple of nooks with some comfy chairs.
Looking for something dark, my eyes hit upon Double Stout by Hook Norton. At 4.8% abv, I've had this in bottle and thought it OK. Time for draught. Mmmmmm! Black, creamy head, some coffee notes on the nose. Lovely dark malty flavours, reminiscent of overdone buttery toast. Gorgeous and vying for 'pint of the night' with the Hawkshead!
£6.70 for three pints was none too shabby either!
At this point we bade farewell to Graham who had a bus to catch. Only 5 minutes later did I realise why, 11:10! Good grief, where did the hours go? An excellent and interesting beery related chat, was nice to meet him. Who knows, I might start to pop out to some Branch Meetings soon!
At this point (and against all my better judgement!) Colin dragged me (kicking and screaming) back into The Spinning Mule. Another NZPA? Who am I to say no!
A pleasant evening – even when accosted by an over refreshed guy in the Spoons earlier!
On that note….
Slainte!
A Few Bottle Tastings
Just a couple of nice ones so far this month.
1. Rudgate Chocolate Stout 5% abv – Booths – £1.99
A surprise purchase from Booths at Media City this one! Hadn't seen Rudgate there before. Deep ruby to black beer. A Malteser and caramac aroma. Dry chocolate in the mouthy, dark but not overly bitter. Nicely flavoured with chocolate not dominating the drink, a bit more subtle than some. Nice dry cocoa flavour lingered for a short while. A really nice choc stout.
2 Saltaire Triple Chocoholic – 4.8% abv – Booths – £1.99
Yes, I have a sweet tooth! Black beer with noticeable chocolate syrup (ice cream topping) aroma. Smooth in the mouth with sweet chocolate flavour up front, lovely dark chocolatey malty base. Made with 3 sources of chocolate flavour, hence the Triple. Made to out chocolate the Youngs Dbl Choc Stout, which it does, in spades! Still one of my favourite beers, but the Rudgate pushes it close.
3. Two Roses Brewery – Black Beauty Stout – 5% abv – A gift form Jaz via Ashton Farmers Market.
Black beer with a creamy head. Aroma had some lactic type Milk Stoutiness with an added whiff of licorice. This Vegan friendly beer was lovely and dark with a nice roast dark malt, a hint of coffee and a slight dry smokiness in the finish. A lovely beer and my first from this brewery. I'll make up for that next time I pop into Yorkshire Ales!
4. Wilson Potter – Gingery Does It – 3.5% abv – Direct from the brewers.
A very pale golden beer. Pale head. Slight citrus aroma with hint of spicing to come. A nicely gentle hoppiness with ginger nibbling on your tongue. A really refreshing nicely warming beer in the mouth. Really refreshing. Gingery in the way of Marble Ginger – but more refreshing. Must buy some more.