Nov 4 2012
This week, chez Heels, the dust has been flying. For a change, it was the stairway walls that were getting plastered, by my good friend Mr Wood. Now I had made a rather rash statement last Sunday (after two days committed blog research!), that I was pulling up the drawbridge and retreating from strolling for a couple of weeks.
However, Rabbie Burns knows far more about plans going wrong than I do, so, with my bank balance diminishing with the plaster dust, and the said dust drying my throat….sod plans! A quick call to my mentor and arch-nemesis Mr Jaz (at that time, at The Bury Beer Festival – excellent reports!) and I find myself on the (late) 18:44 from Farnworth to The Rainy City, which certainly lived up to its name!
So, at 19:15 I found myself shaking the raindrops off the new coat at the bar of……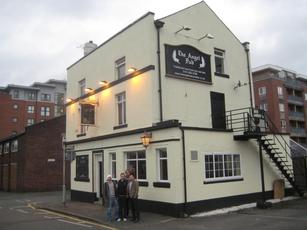 Now I've known this pub in a number of incarnations. When I first drank there was my first Xmas works stroll back in 1984. Back then it was a Tetley house called The Weavers, a 2 room pub with an upstairs function room (with the legendary Victor Brox performing that particular night!). A fine pint of Tetley it was too.
Then it subsequently became a freehouse under The Beerhouse moniker. A fine pub it was too, with a variety of well kept beers. Now it is known as The Angel and styles itself as a Dining Pub. The main restaurant room being in the upstairs area (formerly frequented by Mr Brox et al) the downstairs area occupied by the "pub" bit is an open plan in an L shape with the bar on the left as you enter. There are a number of hand pumps on display, with a good selection from the likes of Liverpool Organic, Pictish, Norfolk Brewery and Hawkshead. Dining Pub or not, this is one excellent drinking venue!
Seeking the comfort that familiarity brings, I opted for one of my favourite pale ales, Hawkshead Windermere Pale a 3.5% abv brew. As clear as you would want it, lovely and golden with a nice tight head. Like myself, it seemed a bit subdued, not its usual assertive self, perhaps the Jalfrezi I had recently eaten had dulled my tastebuds? Who knows! It was a nice pint in any case served by a very friendly and helpful young barman who tried to tempt me with a Pictish Beata!
Some minutes after the arrival of Jaz, he felt compelled to furnish me with a pint of Norfolk Brewery Moon Gazer Ruby Ale. A dark Ruby Mild at 4% abv, this had a lovely nutty aroma. Flavours were a biscuity roasted malt, a really nice pint. There was another Norfolk Brewery beer on the bar which came with the Jaz seal of approval, but, you don't have a stroll while sitting on your bum! So, 5 minutes later and a 300 yard walk and we were back at one of my favourite venues….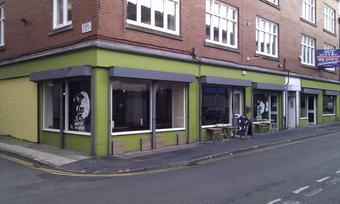 (Common Artwork 1)
(Common Artwork 2)
As busy as a chippy! We beat a path to the bar. Both pumps were occupied, one with a beer from Brightside Brewery from Bury. Ordinarily, I would have had one and 'gone local', but the other pump sported an Ilkley Brewery pump clip! The beer was The Green Goddess, another collaboration with the beer writer Melissa Cole. Two weeks ago, I eulogised about their other collaboration Siberia. Well, this is right up there also!
(pic – Courtesy of Joshua Brooks – 'sorry' – ed)
Green Goddess is desrcibed as a green hop IPA. I must confess, by the flavour, I'd have had as a wheat beer! Slightly hazy, and golden with cream soda in the aroma, the flavour, fresh cut grass, resinous hops. The  best recommendation I can give is…I stayed for another! (£3.15 – using my Common Card.- Bargain!) We move on…..to……
Terrace Bar
 (opposite Common) on Edge Street.
Again, busy as a chippy! Recently opened bar on Edge Street with 2 entrances – the other being on Thomas Street. The Edge Street side has a large open area with a DJ booth (I think!), the room then narrows into a corridor through which you access the bar. Lots of exposed brickwork, excellent powerful sound system, lots of cocktails being served to a predominantly young crowd.
The usual suspect lagers in evidence alongside 6 handpumps. 3 of these seemed to be occupied by Marston beers, but I opted for a beer by Happy Valley. The beer was hazy, not very well kept and VERY disappointing at £3.80 a pint. No issue with Happy Valley, as I know they brew excellent beer. This fault falls on the venue. Needless to say, we beat a hasty (and somewhat disappointed) retreat. (I won't be back in a hurry!) to……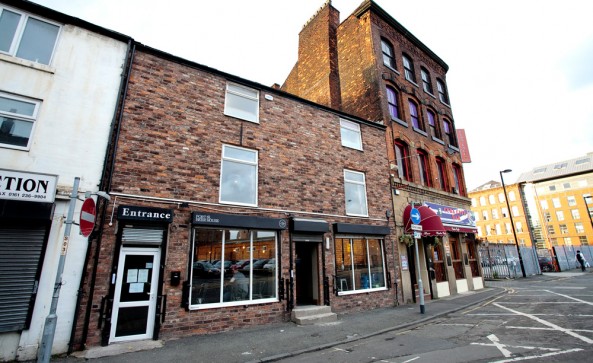 (pic – www.portstreetbeerhouse.co.uk)
So much has been written about this pub. What I will say for my part, is that it's the best pub in Manchester. Period.
Last night, I walked in to be greeted by JP behind the bar who recognised me from my stint behind the cask bar at IndyManBeerCon. The man has a formidable memory! Top bloke!
The beer.
First up was Resistance by the mighty Summer Wine Brewery from Holmfirth. A dark mild at 3.9% abv. Lovely dark brown beer with a nice roasted aroma. Nutty dark roasted malt flavour. Went down a treat after the previous pint!
Next – Fireside Porter by Ilkley Brewery. Having not had much on draught by Ilkley, I'm now on a bit of a run! Dark beer, roasted malt and smoky aroma. For the strength (4.2%) this was a surprisingly flavourful beer. Some vine fruit, smoky roasted flavour. Yum! Another excellent brew from Ilkley.
A touch of stupidity next! Generous George from Kirkstall. 6.6% abv was a stretch too far. Loads of flavour but by 'eck it tasted it's strength! One to try slightly earlier in the evening I think!
Finally, again on Kirkstall. This time their Framboise on keg. Lovely tart raspberries! Really refreshing.
Again, the bar staff speak for a pub. The staff last night at Port Street were friendly and ever so knowledgeable about the products they serve. Stood at the bar, I watched them help a number of customers with their choice of beer with an unfailing polite manner. This stuff works and makes for return visits. It works for me!
With that, It was off for the last 37 bus back to Farnworth! See you soon.
Slainte!